Spinal Decompression in Concord CA

Have you already tried everything for your pain in Concord CA? Are you sick and tired of taking meds for the pain or numbness? Do you want a normal life back? Maybe we can help…Read on!
When neck or back pain won't resolve on its own, it can indicate spinal problems that results in degeneration and destruction of the vertebrae and discs that separate them. These fall under the umbrella term of arthritis.
---
About Spinal Decompression in Concord CA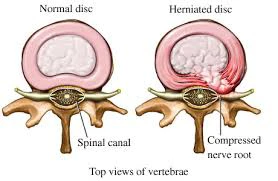 At East Bay Disc Centers, we are certified in Non-Surgical Spinal Decompression. NSSD is an FDA cleared therapy that painlessly relieves pressure on the discs and other spinal structures so you can have relief from pain.
What's even better is that spinal decompression can actually help to heal bulging and herniated discs, and take pressure off the joints and nerves. If your symptoms run down the arms or legs (radiating pain), this indicates pressure on nerves as they exit the spine.
Spinal decompression works by distracting specific bones of the spine and creating a negative pressure inside the disc. This is like gentle suction that pulls bulges back toward the healthy disc shape. As we repeat the decompression sessions, bulges get smaller and smaller, and the pressure on nerves becomes less and less. It's a common occurrence that our new decompression patients have given up many activities by the time they first come to our clinic. But after a series of sessions, they are able to resume those same activities that are important components to their quality of life. Our success rate is greater than 90%. Here are a few real patient stories about NSSD in our clinic:
Young father of two hobbled in with severe back and leg pain for more than six months, unable to work and take care of his family. With our care his pain disappeared, his spine was restored, and he resumed work and normal family life.
50 year old woman who works in freezers at a grocery chain had terrible back and leg pain and could barely perform her job. After our spinal decompression care she has NO pain, her spine is in great health, and she lifts frozen food all day with no problem. She has referred several other patients to us.
40 year old woman living on pain meds for more than a year with neck and arm pain as well headaches EVERY DAY. After a very short period of NSSD combined with our spinal adjusting technique, she has NO pain anywhere and takes no ore drugs. She and her family couldn't be happier.
An active 86 year old man who hiked Mt. Diablo every morning lost his leg strength and had low back pain that prevented him from doing most of the things he loved. Our spinal decompression program got him back on the mountain full force in a matter of weeks!
Don't continue to suffer. Find out if we can help YOU. Call for your appt today.
Ok, why our office and what makes us different? 28 years of practice experience, advanced training and certified in Non-Surgical Spinal Decompression, compassion and a love of helping others.
OFFICE HOURS
---
Monday
9:00am - 1:00pm
3:00pm - 6:30pm
---
Tuesday
Closed
---
Wednesday
9:00am - 1:00pm
3:00pm - 6:30pm
---
Thursday
10:00am - 12:30pm
2:00pm - 4:00pm
---
Friday
9:00am - 1:00pm
3:00pm - 6:30pm
---
Saturday
10:00am - 1:00pm
---
Sunday
Closed